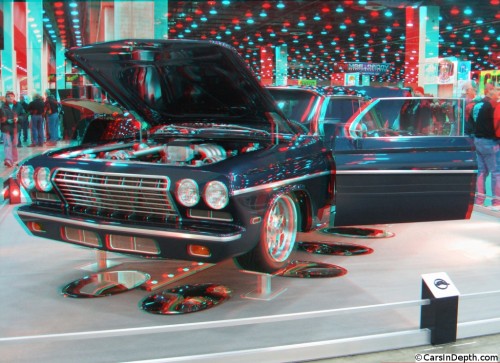 To view the entire photo gallery in your choice of 2D or stereo 3D formats, click here for a Flash player or here for an HTML applet
In addition to the Great Eight Ridler Award finalists at the Detroit Autorama there were a number of other high-end customs that might have contended for that honor had they met the criteria. Last year Murray Pfaff's Imperial Speedster would have surely been a finalist or Ridler winner but it wasn't quite in running order, one of the rules. Another rule is that to qualify for the Ridler, the vehicle cannot have been displayed before – the Autorama has to be its first public viewing. I don't know why John Bendenbender's outstanding '64 Impala "Last Date" didn't qualify but I wasn't the only person impressed with the car, done uniformly in a medium blue with brush metal trim. A lot of that trim is made from billet aluminum. While some think that billet is cliched and played out, the consistency of the execution of this car, with every single piece of brightwork given a brushed finish, including in the interior, not to mention significant but subtle changes to the bodywork, makes me put Last Date on my list of "the best of the rest".
Start the YouTube 3D video player. Click on the red 3D icon in the menu bar to select 2D or your choice of stereo 3D formats.