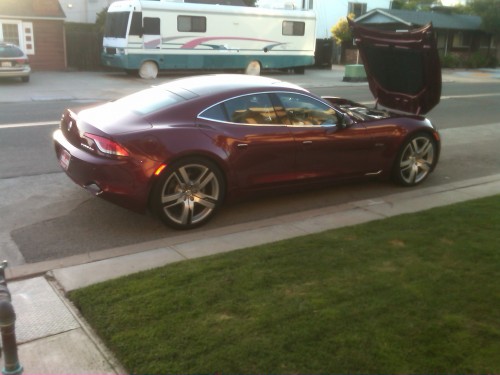 NOTE: Welcome Instapundit readers. When you're done reading this post, please take the time to check out our homepage and archives.
Consumer Reports bought a Fisker Karma to test the luxury extended range EV, and they weren't able to even complete the tests. With only 180 miles on the odometer, the CR testers got a warning light and then their Karma died in their driveway. Not quite bricked, like a Tesla with an overextended battery, but immobile just the same. As part of Fisker's standard VIP service, CR's local dealer dispatched a flat bed to pick it up. Fisker has since issued a statement indicating that they are diagnosing the problem. Just about a week ago, friend of Cars In Depth CJinSD spotted a Karma at the side of the road with its hood up in San Diego near Pacific Beach and he sent us these photos and his account of the incident. Looking at the photos, the car doesn't have a real license plate, just one that reads MKB.com. Marvin K. Brown is the Fisker dealer in San Diego. A call to that dealership asking for Fisker sales got me connected to a guy name Greg who insisted that the car was not broken down, but rather a client of the dealer was just "showing the car to a friend". CJinSD's pics don't show any friends near the car and the driver's behavior certainly sounds like how you and I would act if the car we were driving broke down:
I was riding my mountain bike when I saw this guy on his cell phone poking around under the hood of his Karma on Lamont Street. When I turned around and pulled out my phone to get photos he got in the car but stayed on his phone. He was on a block where his presence was probably interfering with the crystal meth trade, so perhaps he had some fun before the flatbed showed up. Bad Karma I suppose.
When I told CJinSD of the dealer's response. This is what he had to say:
That is utter bull! He was standing there by himself talking on his cell phone. When I rode by on my bicycle, he was leaning over the engine talking into his phone. When I turned and came back, he got in the car. I was there about 5 minutes in all, and there was no friend and no reason to lift the hood and leave it up. That isn't the nicest block where he broke down. I've ridden by there other days when there is serious police activity. Was he going to show off his Cobalt engine to a junkie? I suppose the Fisker buyer could be such a fool that he lifted his hood and did the break down dance while his friend was inside one of the houses buying crystal meth, but there has to be a lower profile way of buying drugs than by faking a mechanical failure with a purple Batmobile. I'll keep this denial in mind if Marvin K Brown sells any real cars and recommend against dealing with him. CR's public Fisker failure suits him right.

There was no happy-guy-looking-to-show-off-a-new-car body language going on. He didn't seem happy to be there at all, nor was he happy with my interest. Were it me with a new car I was positively excited about, I'd have been pleased to talk about it. Everything about him shouted rich guy broken down in a bad neighborhood.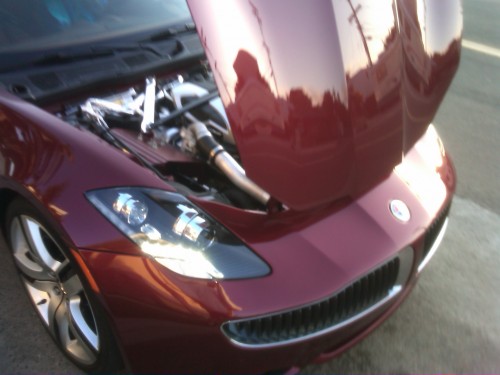 More photos and Fisker's response after the break.
UPDATE: Fisker's response:

Yesterday a Fisker owner, Consumer Reports, experienced a service event with the Karma they recently purchased anonymously from a local retailer.

As a new company introducing a new technology into the marketplace, customer satisfaction and a quick and thorough response to any issue is our primary focus.

As part of the Fisker VIP Customer Service program, the local Fisker retailer immediately arranged for the car to be picked up and diagnosed by trained service technicians.

Our engineers are in contact with the retailer and are working closely with them to understand the cause and resolve the issue so they can return the car to their customer quickly.

With nearly 500 units retailed to date there are many satisfied customers around the world driving Fisker Karmas every day, without incident, while positive media coverage of the Karma continues to pour in.