I hate to repeat myself but it's always interesting what things you find when you're looking for something else. Mark Phelan of the Detroit Free Press took an inside look at the world's biggest tire, the 86 foot tall Uniroyal tire that greats visitors to Detroit as they drive in from the airport. The "tire" was originally a Ferris wheel at the 1964-65 New York World's Fair. Cars In Depth has featured 3D photos of the big tire before and while I was rereading that post I noticed in a picture from the fair the Chrysler exhibit that featured a building in the shape of a huge car. Researching about that Chrysler exhibit, I came across a bit of info that's perfect for this site and our readers. The 1960s New York World's Fair was intended to replicate the great success of the 1939 World's Fair held in NYC. It turns out that at Chrysler's exhibit for the 1939 fair, one and half million people watched a 3D film titled In Tune With Tomorrow, a black and white stop-action animated film of an 1939 Plymouth being assembled. People paid 25 cents for special polarized glasses in the shape of a Plymouth – with millions sold you can still find them on eBay.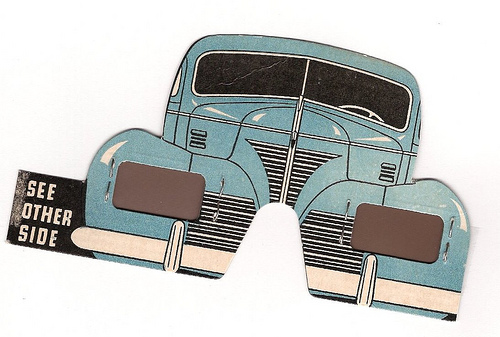 Photo: Iowahawk
In Tune With Tomorrow was the first time a large audience was exposed to 3D movies in the Unites States. The film was produced by filmmaker John Norling, who with Jacob Leventhal had developed a 3D motion picture rig using Bell & Howell cameras and angled mirrors. Norling worked with the Polaroid company on the project. Edwin Land, Polaroid's founder, had developed a 3D projection system using two projectors and polarized filters. The RealD and MasterImage 3D projection systems used in theaters today are not that different than Land's system.
Chrysler's 3D movie proved to be so popular with fair attendees that for the 1940 edition of the fair, Norling remade the film, this time using Technicolor cameras, titling the film New Dimensions. During the first 3D craze of the early 1950s, the RKO studio reissued it at Motor Rhythms, which is how we have the red/blue anaglyph video posted above. I'm hoping to find a L/R stereo pair version, and maybe a copy of the original black and white film, but so far contacting the Polaroid corporate archives at Harvard's Baker Library, the Paley Center, and Chrysler's own archives have so far drawn a blank.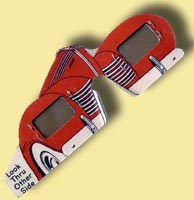 Again, not wanting to repeat myself, one reason why we started Cars In Depth is because the auto industry uses a variety of 3D and virtual reality technologies in the design and development of today's cars. That embrace of 3D and other ways to represent dimension goes back Gordon Buehrig's invention of the "styling bridge", and before that, Andrew F. Johnson's calculations for projecting three dimensions in two dimensional drawings. It shouldn't be too surprising, then, that a car company was an early adopter of using 3D to promote their products as well.