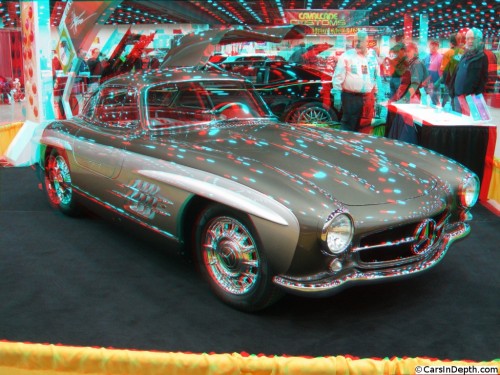 To view the entire photo gallery in your choice of 2D or stereo 3D formats, click here for a Flash player or here for an HTML applet
To rest your eyes after that electric green electric SLS AMG, here's a Mercedes-Benz of a different color. Well, actually different colors. BASF-Glasurit commissioned Chip Foose to do his thing to a vintage '57 300SL gullwing, and he ended up with this very classy two-tone grey with red highlights. This wasn't the only Foose related car at the 2012 Autorama. The Alexander Brothers' "Vision 33" Ford, which was one of the Great Eight Ridler Award finalists, was penned by Foose.
Start the YouTube 3D video player. Click on the red 3D icon in the menu bar to select 2D or your choice of stereo 3D formats.