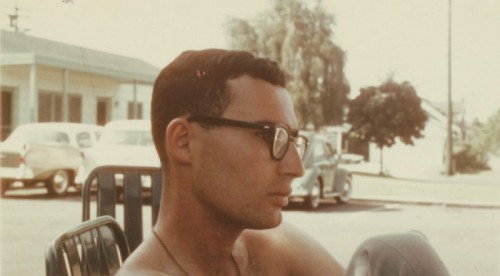 Mike in Portland, Oregon, 1957. His 1955 VW, Gregor Samsa, stands patiently in the background. It's the only picture he has of the car. Text and photos copyright Michael Lamm 2012
My parents fled Hitler in 1937. They weren't allowed to take cash out of Germany, but both did bring their medical degrees. They settled in the very southern tip of Texas, and they chose that area basically for three reasons. First, Texas was one of the few states that granted medical licenses to foreign graduates. Second, the Lower Rio Grande Valley struck my dad as exotic and romantic – citrus groves, cotton fields, hibiscus, bougainvillea, all very tropical. And third, the little town where they put down roots, La Feria, needed a doctor… actually two doctors, because my mother began practicing medicine after my sister and I became old enough to fend for ourselves. Growing up, I assumed I'd follow in my parents' footsteps. Everyone assumed that. My father, especially, made no secret of his wish that I would become a doctor.
Continue reading over at Hemmings.