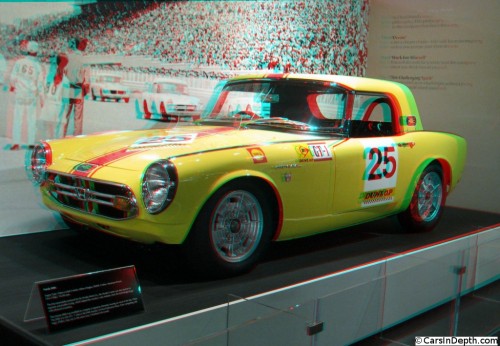 To view the entire photo gallery in your choice of 2D or stereo 3D formats, click here for a Flash player or here for an HTML applet
Once again, you never know what you'll find. The Automotive Hall of Fame, in Dearborn, MI has a small number of cars on display that accompany the various displays and honorary plaques devoted to the people who created the auto industry as we know it today. Soichiro Honda was the first Japanese automobile executive to be inducted into the Hall and the Honda company acknowledges the great honor by its loan of the historic 1968 S800 RSC racecar, now on display at the Hall. The previous location of the S800 RSC was in Honda's own museum at the Motegi racetrack. Most people who know about the S800 have only seen it as a die cast model or in a racing game like Gran Turismo (where its 10,000 RPM redline can be experiences in simulation), so it was a very pleasant surprise to see it in Dearborn.
Read my longer post on the S800 RSC over at The Truth About Cars.