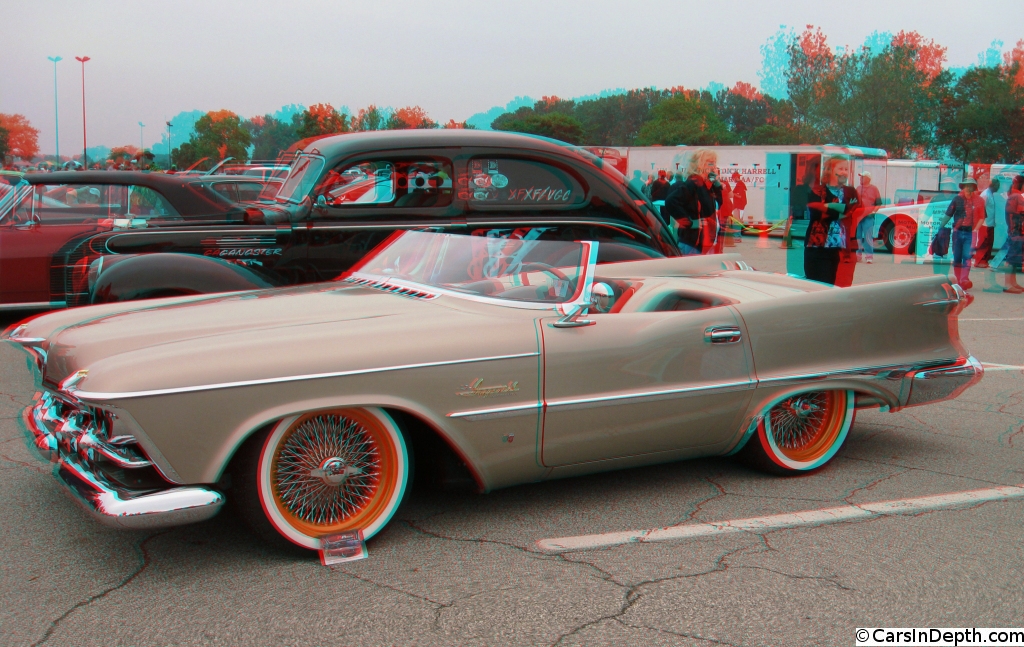 To view the entire photo gallery in your choice of 2D or stereo 3D formats, click here for a Flash player or here for an HTML applet
Frequent readers will know that we're fans of designer Murray Pfaff and his amazing Imperial Speedster, a petite two seat roadster fabricated from a huge 1959 Chrysler Crown Imperial. Murray didn't have the Speedster ready to run for last year's Autorama so it wasn't eligible for the prestigious Ridler Award. Since then the Imperial Speedster has won a number of awards and taken part in the Hot Rod Power Tour. It was also a featured car at the Eyes On Design show, the only custom car included in that show's featured class of "Forward Look" 1950s Chrysler corporation products. Now come's word that Pfaff has won the Go For the Gold award given out by famed customizer Darryl Starbird in conjunction with the National Rod & Custom Hall of Fame. The $20,000 award is the largest cash prize in the custom car world and it honors vehicles that "exemplify the best in creative design, execution of design, and workmanship."
Press release after the jump.
Speedster Strikes Gold in Tulsa!

If you are looking for the largest trophy in hot rodding head to Pomona, CA for America's Most Beautiful Roadster competition. If you want the best known award, look no further than Detroit's Autorama and the Ridler Award. For those looking for the largest cash prize in all of custom car building, you have to head to Tulsa, Oklahoma for Darryl Starbird's Exotic Car Show and the "Go for the Gold" award.
2010 Ridler Award Winner "Gold Digger"
Custom car builder and show promoter Darryl Starbird in conjunction with the National Rod & Custom Hall of Fame established the "Go for the Gold" award and its $20,000 cash prize to honor top vehicles that exemplify the best in creative design, execution of design, and workmanship. This year cars came from across the country to compete including Jason Rock's sinister 1969 Dodge Charger, Justin Hartman's cool, custom 1957 Chevy pickup, Roger Brown's outrageous Viper powered Mack fire truck, and the 2010 Ridler Award winning 1933 Ford Phaeton "Gold Digger". For car designer and builder Murray Pfaff it was quite intimidating, "The competition seemed very daunting for a car built in a two and half garage by a bunch of friends" quipped Pfaff.
Builder Tom Stark and Owner Roger Brown with the wicked Viper-powered Mack fire truck.
In the end, the out of the box design of Pfaff's unique Imperial Speedster combined with the build team's craftsmanship tipped the scales in its favor for the win!  Rod and Custom Hall of Fame board member Tom Vogele states "In today's world of extremely high-dollar cars competing for the top car show awards it's great to see a homebuilt creation become a winner. Murray Pfaff combined creativity, workmanship, execution and individual design with imagination to win the 'Go for the Gold'. This all happened in a two-car garage behind his home." Indeed. As Murray noted "This award is the pick of top car experts and customizers in the industry, we are flattered and honored. This proves that it doesn't take cubic dollars, a large shop, and expensive equipment to create a notable hot rod."
Murray accepting the award and Check from Darryl Starbird.
Following Tulsa the Imperial went on to shows in Detroit and Chicago where the car received two Best in Class and an Outstanding Radical Custom award. Most significant was the two Best Engineered awards that are handed out to only one car at each of the shows.  "It's clear that the judges recognized the creativity and craftsmanship that it took to transform a four-door sedan into a two seat sports car that Chrysler should have built." reports Bob Millard of the International Show Car Association.
Pin-up model Emily Page poses in her Imperial dress.
The Detroit Autorama also brought about the latest in Imperial fashion and the debut of a paper dress by fashion designer Matthew Richmond. Working completely with posters of the Speedster and Emily Page, Matthew created a "skirt and corset" style dress for the pin-up model. With video rolling and camera's flashing, it was a big hit for the car show crowd at COBO Hall.
Other cars on display by Pfaff Designs included "Legacy by Petty" Challenger, Jimi Day's OUSCI "69 AMX, and Kevin Byrd's LS powered BMW.
Future touring for the conceptual sports car may include the HOT ROD Power Tour and a trip to Reno for Hot August Nights. Stay tuned for details to come!
A collection of awards and mementos from an incredible year of Imperial travels.
A special thanks to Pilot Transport for taking great care with delivering the car to all of its destinations.

Don't forget to like us on Facebook and follow us on Twitter!

Hot-rod and custom-car designer Murray Pfaff founded Pfaff Designs in 2002 to meet the design needs of automotive hobbyists, as well as, high-end car builders who need to visualize their vehicles with accurate and compelling renderings. These high quality drawings enable builders of handcrafted vehicles to communicate the design vision to their team members, sponsors, and project owners to ensure a successful end result. The renderings are drawn to scale using actual proportions with realistic modifications.

We are design for serious rides!