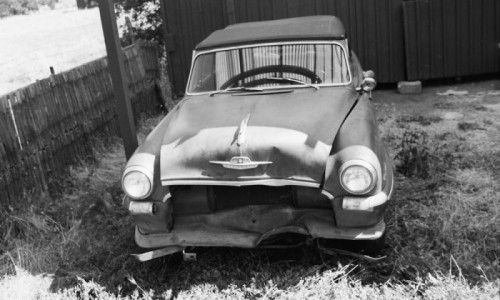 This is pretty much what the 1953 Plymouth Cranbrook convertible looked like when Mike bought it in 1975 for $150. The front end had lost a battle with a lamp post, but the car was sound otherwise. Text and photos copyright Michael Lamm 2012
I occasionally tuck my business card under the wiper blade of a car I'd like to buy. On the back of the card, I'll scribble something like, "When you get ready to sell this car, please give me first dibs. Hang onto this card."
Over the years, I've had three owners respond, one of whom was a little old lady here in Stockton. She'd bought a cranberry-colored 1953 Plymouth Cranbrook convertible new, and she'd taken meticulously good care of it until her nephew challenged a lamp pole at a local mall parking lot. I'd left my card on her windshield five years earlier, in 1970. Ordinarily, I wouldn't have given a 1953 Plymouth a second thought, but this convertible was so nice. It had the continental kit and just about every other option and accessory available that year, so I thought, What the heck; I'll leave my card. Can't hurt.
Nothing for five years, and then one Sunday morning in 1975, she called. "Do you remember that Plymouth convertible you left your card on some years back?" (No.) "Well, you wanted to buy the car back then, and now I'm ready to sell it, but there's a slight problem. The car hit a lamp pole and crumpled the front end. Would you still be interested?"
Read the complete installment at Hemmings.