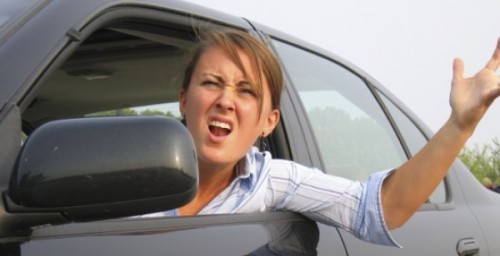 In a bizarre occurrence in suburban Detroit, a woman died of a heart attack and crashed into a telephone guy wire after a road rage incident she provoked with her husband. We don't know what started the argument, but when Diane Bergiel, 55, spotted her husband scrapping, looking for metal he could sell in the trash other people set out at the curb, she confronted him. An argument ensued, he got into his Dodge minivan and drove off, she chased him in her '07 PT Cruiser, and the two of them raced through the subdivision at speeds of up to 40 mph, windows down, side by side, screaming at each other. Witnesses say that eventually he cut her off, forcing her car into the wire, but an autopsy revealed that Bergiel had had a "cardiac incident" before the collision. Her husband, whose name has not been released, was taken into custody and released following the autopsy.
Roseville Deputy Police Chief James Berlin said that responding officers found the woman unresponsive after responding to numerous 911 calls about the incident.
"She chased him, he chased her throughout the neighborhood," Berlin said. "They're driving along side of each other with their windows down and continued arguing."
As police administrators are wont to do, Deputy Chief Berlin tailored his remarks to the automotive crisis du jour among bureaucrats and revenue collectors, distracted driving.
"We had witnesses estimating speeds between 10 and 40 mph throughout this residential neighborhood. It's terribly dangerous, when you are driving in that manner, that upset, when your only focus is continuing that argument with your spouse. You're not paying attention to what's around you — to children, pedestrians, anything. It's the ultimate distracted driving."
Final autopsy results will take six to eight weeks, mostly for toxicology tests. Then the Macomb County Prosecutor's Office will review the facts for any possible prosecution.