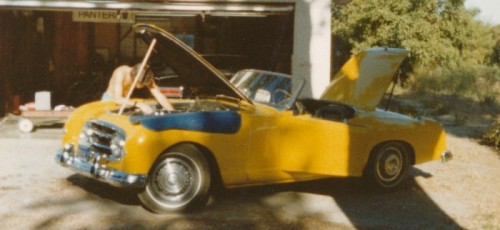 Photo copyright Michael Lamm – used with permission
Editor's note: Most of the information in this post was drawn from Ate Up With Motor's usual excellent work in Born On A Boat: Donald Healey and the Story of the Nash-Healey
It's ironic that Michael Lamm asked me to run excerpts of Cars I've Loved and Hated here att Cars In Depth and that one of the cars in Mike's life was a Nash-Healey. At Cars In Depth we feature 3D photos and video and the Nash-Healey wouldn't have happened were it not for 3D. It's a true story, or at least it's been repeated in most histories of the car.
Donald Healey wanted to build a prototypical Anglo American sports car, along the same lines of thought of Briggs Cunningham, Allard, Carroll Shelby, and now Hennesey – put an American V8 in a lightweight British sports car. Actually, Cunningham had put a Cadillac V8 in one of Healey's Silverstone roadsters. Healey also wanted to sell cars in the profitable US market, not just in war ravaged and slowly rebuilding Europe. Healey came to Detroit in late 1949 hoping to make a deal with Cadillac to supply him with their then new high compression overhead valve V8. He might have gone back to England empty handed because Ed Cole told him that Cadillac was selling every V8 powered car they could build. GM also may not have wanted to do business with a small, indebted British specialty automaker. However, on the Queen Elizabeth coming over to the States, Healey, a photography buff, noticed a large, heavyset man taking pictures with a stereo camera, probably a Stereo Realist ("The camera that sees the same as you"), popular during the 3D craze of the 1950s. The fat man taking 3D photographs was George W. Mason, who was the president of Nash-Kelvinator and who would later forge the merger of Nash and Hudson into American Motors. Taking the Queen Elizabeth wasn't Mason's only luxury. The Stereo Realist camera cost $159 back in 1950, which with inflation would be over $1,400 today.

Mason was returning to the United States after a round of European auto shows. Mason was looking for a way to add excitement to the Nash lineup and expressed interest. Mason told Healey to look him up in Kenosha if things didn't work out in Detroit. After the meeting with Cole, Healey tried to salvage his trip and headed for Wisconsin.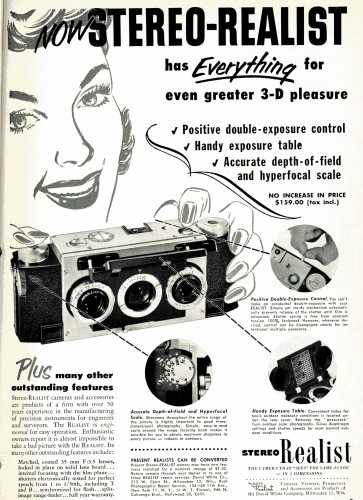 Nash, like most of the independents, didn't have a V8 engine in production at the time, but Mason suggested using Nash's 235 cubic inch inline six, which was heavy, but durable and had good torque (210 lb-ft @ a very low 1,600 rpm). With a revised aluminum head designed by Healey's team and twin carbs, power was increased from 115 to 125 HP, enough power to make the Nash Healey quick for its day.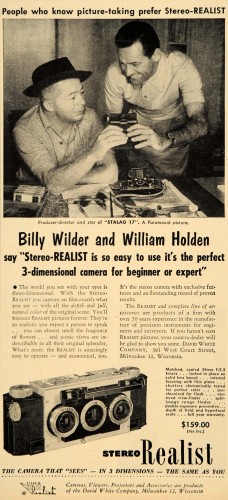 Mason was more than happy to supply Healey with engines. It got better for Healey, who you'll remember wanted to sell cars in the U.S. Mason offered to distribute the car in Nash's distribution and dealer network. If that was fortunate for Healey, Mason's next offer was a godsend. Mason offered to supply engines, transmissions, and other needed Nash components on credit. Mason's offer to finance the cars and then buy them from Healey could not be sensibly refused. The deal got Healey out of debt and established the brand stateside. The Nash-Healey had its first U.S. introduction at the 1951 Chicago Auto Show. In four years, only 504 Nash-Healeys were produced. Sales were hampered by the car's high price, 60% greater than any other vehicle in the Nash showroom, but then the Corvette was a Chevy that cost more than many Cadillacs. On the other hand, the Corvette didn't sell well until it got a V8 in 1955. Still, that high price meant that Nash actually made money on the project, though after Mason died in 1954, George Romney discontinued the project to focus resources on the Rambler.
None of it would have happened were it not for 3D.