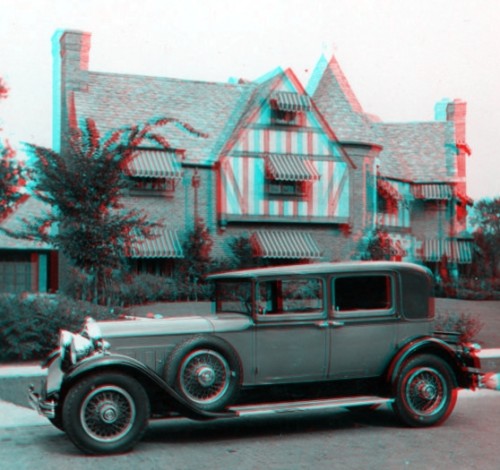 To view the entire photo gallery in your choice of 2D or stereo 3D formats, click here for a Flash player or here for an HTML applet
While visiting the Detroit Historical Museum to get some pics and video of their Body Drop exhibit, which salvaged the section of Cadillac's Clark Street plant that mated bodies to frames (more on that later), I was pleasantly surprised to find two items of interest to 3D enthusiasts, a stereograph viewer with a photo of an old Hudson factory, and a Cail-O-Scope, a stereographic nickelodeon device that was made by Caile Bros., a successful Detroit based coin-operated machine company. A few of the images were of cars being assembled in the early 20th century. Cool! Vintage 3D photos of cars, something I'm sure you'd like to see. It took some digging but the stereo pairs were the product of the Keystone View Company, which was active from 1892 to 1963, producing educational and entertainment stereographs and stereoviewers. When the company finally went out of business, their photographic archives were donated to the University of California Riverside / California Museum of Photography as the Keystone-Mast collection. A bit more digging found an online archive, including almost 600 vintage stereographs on automotive subjects. In time I hope to publish more of them here at Cars In Depth. We're Packard fans around here so we'll start with some vintage Packards in vintage 3D.
The current 3D wave is the third time stereo imagery has caught the public's fancy. The 3D movie fad of the early 1950s was the second and the first was the widespread popularity of stereographs, starting in the late 19th century and lasting until radio and motion pictures became dominant. By the mid 1930s, Keystone had over 2 million stereographic negatives, shot by photographers they had all over the world. One day in Sept. 1927, one of those photographers took these photos of a variety of Packard automobiles, including Model 733, 740 and 745 variants. In 1927 they also used large format cameras, which made great pictures but make photos that look a bit tall to today's eyes, so I've done some cropping. I've also used Stereo Photo Maker software to align the images. Surprisingly a few of the Keystone images had vertical registration issues, which can create eyestrain.
Rights:

REQUIRED CREDIT LINE MUST STATE: Keystone-Mast Collection, UCR/California Museum of Photography, University of California at Riverside. Please contact UCR/California Museum of Photography for information about the copyright status of this item. Some materials in these collections may be protected by the U.S. Copyright Law (Title 17, U.S.C.). In addition, the reproduction, and/or commercial use, of some materials may be restricted by gift or purchase agreements, donor restrictions, privacy and publicity rights, licensing agreement(s), and/or trademark rights. Distribution or reproduction of materials protected by copyright beyond that allowed by fair use requires the written permission of the copyright owners. To the extent other restrictions apply, permission for distribution or reproduction from the applicable rights holder is also required. Responsibility for obtaining permissions, and for any use rests exclusively with the user.

Collection:

Contributing Institution: