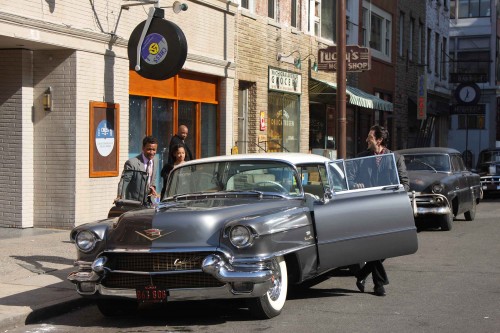 Click the play button to hear Flyin' Down The Freeway:
Tonight at sundown begins Passover, the Jewish festival that celebrates the Hebrews' liberation from Pharoah's bondage so they could serve the God of Abraham. Passover is known as the festival of freedom and what could be more liberating than flying down the freeway in a Cadillac? What's that you say, Kinky doesn't mention Cadillacs in the song? Well, not by brand name maybe, but, boy, whatchu think a "Jew canoe" is? Before affluent American Jews decided that the status signifier value of a Mercedes-Benz, BMW and Audi was enough to overcome any misgivings over the events of 1933-45, they drove Cadillacs. Henry Ford's rather well known anti-semitism kept Jews out of Lincoln dealerships until the 1970s, and Chrysler's Imperials were nice cars but didn't carry the cachet and status that a Caddy did. So those Jews who were rich, drove Cadillacs. The Kinkster himself, a man who respects tradition as he flouts it, has been known for his "Yom Kippur Clipper", a Cadillac DeVille. Needless to say the lyrics, below the jump, may offend.
To our Jewish readers, have a happy and kosher Passover. To our Christian readers, have a meaningful and redemptive Easter and holy week.
Flyin' Down The Freeway
Lyrics by Kinky Friedman
Well, it's retro rocket time inside my attic
I'm all wrapped up in the flag to keep me warm
Got my brain locked in the cruise-o-matic
Rollin' Ronnie Reagan in suppository form
Flyin' down the freeway
Jettin' down to L.A., it sets me free
Going back to nature in my Jew canoe
Flyin' down the freeway all the way with youI'll tell the maharishi that I've seen ya
I'm a-travelin' east until I know I'm free
I'll take the midnight flight to British Guinea
Ain't nobody casting asparagus on me
Flyin' down the freeway
Jettin' down to l.a., it sets me free
Going back to nature in my Jew canoe
Flyin' down the freeway all the way with youI'll get a mule and be a flat land farmer
Grow a little bumper crop of grass
In Hollywood I'll total my karma
I'm gonna cast my seed upon the ground
Gonna covet my neighbor's assI'm flyin' down the freeway
Jettin' down to L.A.., it sets me free
Going back to nature in my Jew canoe
Flyin' down the freeway all the way with youWell, past the pipe of peace in our abode
Buried in the ruins of Mexico
We'll dip some snuff in mainline guacamole
We'll listen to the Opry upon the radioFlyin' down the freeway
Jettin' down to L.A, it sets me free
Going back to Nashville in my Jew canoe
Flyin' down the freeway all the way with you