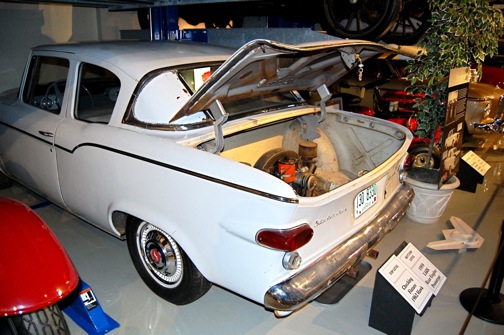 The midwest is home to some  great car museums and one of the best is the Studebaker National Museum in South Bend, Indiana.  The main display areas are arranged on the first and second floors but if you go be sure to check out the basement.  It's open the public, too, and serves as a store room for items not currently on display.  Tucked away along one wall is this strange beast, a 1959 Studebaker Lark with a Porsche engine stuffed in the trunk.
Earlier in the 1950s Studebaker entered into serious discussions with Porsche regarding the German company developing a compact car for the South Bend firm.  Anxious to expand its presence in the U.S. and prodded by Volkswagen importer Max Hoffman, Porsche worked up a design proposal that it dubbed the Type 542, a rear-engined, four-door sedan somewhat smaller than Studebaker's Champion.
Porsche produced a running protype and sent it to South Bend for evaluation.  Distracted by its financial problems, Studebaker didn't take a serious look at the prototype until 1956 when the company's director of experimental engineering, John Z. DeLorean, gave it a thumbs-down and the project was DOA.
Shortly after this episode, Studebaker entered into agreements with aircraft manufacturer Curtiss-Wright over a variety of management and manufacturing issues, one upshot of which was that Curtiss-Wright would take over management of Studebaker for a period of time.  In 1959 Curtiss-Wright engineers, for reasons known only to them, bought a Studebaker Lark from a dealer, removed the entire drive train and installed a 1953 Porsche boxer engine, suspension and transaxle in the rear of the car.  Whatever their reasons for cobbling together this prototype, the project went nowhere, Curtiss-Wright soon divorced itself from Studebaker and the pride of South Bend continued down the road to extinction.
Thankfully, someone had the foresight to save this four-wheeled Frankenstein and it remains available for your viewing pleasure, along with an interesting variety of other Studebaker models and prototypes in Studebaker's Basement.
(A detailed discussion of Porsche's involvement with Studebaker can be found here.)