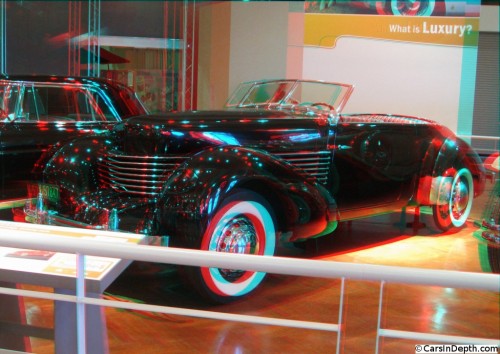 To view the entire photo gallery in your choice of 2D or stereo 3D formats, click here for a Flash player or here for an HTML applet
Continuing with our Cord theme, in this photo gallery are three Cord convertibles, a purple 812 phaeton at last year's Eyes On Design show, the stunning yellow 812 convertible on the turntable pedestal at the Auburn Cord Duesenberg Museum, and the black 810 at the Henry Ford Museum's Driving America exhibit, where it sits between a Continental Mark II and a Duesenberg J, in the display's Luxury section.
Start the YouTube 3D video player. Click on the red 3D icon in the menu bar to select 2D or your choice of stereo 3D formats.
If the 810/812 is one of the most beautiful cars ever made, the convertible version is surely the most beautiful Cord ever made. The Cord sedan's roofline and Darth Vaderish split back window are just a bit too Art Deco and dated for my personal tastes and I think the convertible Cord a more timeless, roadster look. There's a continuous line that runs from the coffin shaped hood to the beltline to the tail of the car.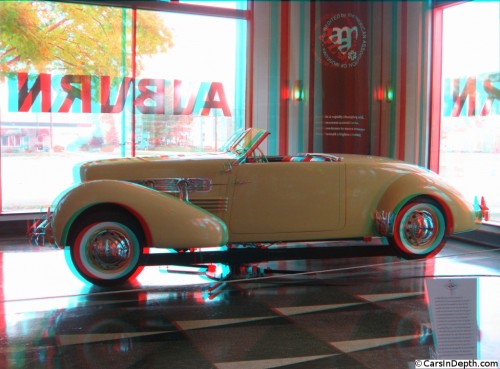 To view the entire photo gallery in your choice of 2D or stereo 3D formats, click here for a Flash player or here for an HTML applet