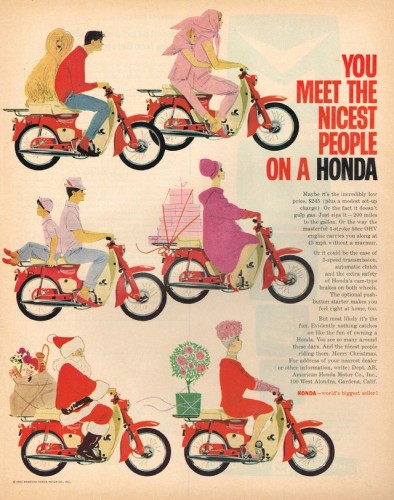 Yes this is a motorbike ad campaign, but if Honda had not gotten established selling Honda 50s and Dreams in the US, it would have never gone on to be an automaker. Had California musicians not embraced the little Honda, that campaign might never have really taken off. Honda first entered the US market with the Honda 50 motorbike, also known as the Super Cub. Today it's the best selling motor vehicle of all time, with over 60 million sold by Honda and countless more knockoffs sold across Asia. How Honda became established and successful in the US is due to two college students and a savvy ad agency. In 1963, two California college students changed automotive advertising forever.
Now the exact sequence isn't clear from what I've found online but an unidentified UCLA student came up with an idea for a Honda ad campaign as part of a class assignment.  Gray Advertising, which had the Honda account, somehow found out about it, bought the rights and pitched "You Meet The Nicest People On A Honda" to Honda executives. In the early 1960s, though a Honda 50 was about as non-threatening as a motorcycle could be (it even had a scooter like apron to protect riders from dirt, water and debris thrown up by the front wheel), the popular image of motorcyclists was formed by The Wild Bunch and "one percenters". Instead of selling Hondas to motorcyclists, the ad campaign would show regular people, men and women, using Honda 50s for transportation. It worked and Honda sales took off, as did requests for dealer franchises.
Around the same time, a young freshmen at San Fernando Valley State College (now California State University at Northridge) named Mike Curb wrote a song "You Meet the Nicest People on a Honda (Go Little Honda)", most likely inspired by the new ad campaign. Internet sources don't say who contacted whom, but Curb licensed the song to Honda, they started using it as a jingle, and Curb dropped out of school to start the first of his record companies.
The ad campaign was successful enough to inspire Gray Advertising to suggest to Honda something akin to today's Super Bowl moon shot ads, becoming the first foreign advertiser on the Academy Awards broadcast. Honda execs were skeptical, the $300,000 cost was a big fraction of their annual ad budget, but the bet paid off and Hondas became a craze. Musician P.F. Sloan convinced his friend, Beach Boys songwriter Brian Wilson, to take advantage of the craze and write the song Little Honda as a commercial for Honda. Honda sent Wilson a motorbike as a thank you, according to Artie Kornfield, another musician and friend of Wilsons. That gift happened to spur the writing of Dead Man's Curve:
One day, Brian and I were chilling and trying out this tiny Honda that the company had sent him as a thank you for writing the Hondells "Little Honda." (the song was not yet released, but Wilson had already written it for a Honda commercial) We were cruisin' about 3 miles from his ex-wife, Marilyn's mom's house. Brian, as he was known to do, was pushing two hundred pounds way over what a 60 cc Honda could handle. I said Bry you should slow down, as in Santa Monica there is a lot of sand on the streets. We went over and the bike and were torn apart. We carried half a Honda each 3 miles, bleeding like crazy, to an open door in an empty house. We noticed a piece of blank paper on the piano and Bry sat down and I pulled up a chair and, I guess because of recent events I wrote down the words, "Dead Mans Curve."
Brian started a two four piano rhythm but I don't have any idea for the lyric…except I always envied Jan's Corvette, sang to Brian's chords" I was crusin' in my Sting Ray late one night and an XKE pulled upon the right…" Bran repeated what I wrote down with the melody and I almost finished the lyric in about 30 minutes with me writing the words, some with Brian, as being a New Yorker after I put us on Sunset Blvd.
Little Honda had already been recorded for a Beach Boys' album but had not yet been released as a single, as Capitol Records wanted to release another song first. Producer Gary Usher put together a vocal group called the Hondells, backed the with his Wrecking Crew band of session musicians and vocalists (which included Brian Wilson and Glen Campbell), and released near identical arrangement of Little Honda as a single. Little Honda by the Hondells was a Top 10 hit, peaking at #9 on the pop charts. That finally inspired Capitol to release the Beach Boys' own version as a single, which was a more modest hit. Either way, the songwriting royalties accrued to Wilson.
Things came full circle when as a followup to Little Honda, the Hondells released their own version of You Meet The Nicest People On A Honda. With all that free advertising, the slogan was imbeded deeply into the public's minds. So much so that Honda kept using it for a dozen years.