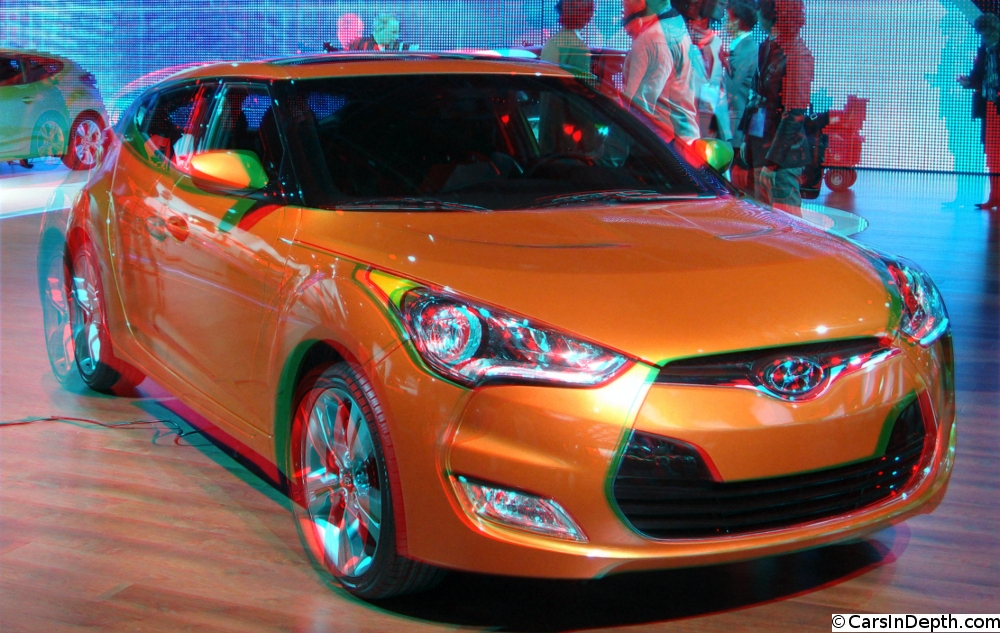 Click on the anaglyph stereo 3D image to launch a Flash player and view the entire gallery of photos in 2D or your choice of S-3D formats.
Hyundai calls their new small sporty coupe the Veloster. I guess the name comes from velocity, because Hyundai pronounces it with the accent on the second syllable so it comes out more like Ve-laah-ster, which sounds even more awkward than this sentence does. A lot of folks, judging by our site stats, also think the car is the Velostar, with an A. Though the name is a little awkward, the Veloster's looks are nothing but awkward. It's an attractive car with an assertive stance. The Veloster got a lot of attention from the assembled media attending the '11 NAIAS, where the new car was finally revealed after months of hype. I think that the new coupe will also get a a lot of attention in Hyundai showrooms.
In a way, the Veloster really doesn't have any direct competition – nobody else sells a 3 door. Well, this kind of three door. Sure there  are 2 door hatchbacks but the Veloster has one door on the driver's side and two doors on the passenger side to ease entry into the back seat. It's an interesting distinction but only for North America as European models of the Veloster will be conventional 4 doors. The Veloster will feature Hyundai's first dual clutch transmission, their new 1.6-liter four-cylinder, 138 HP  Gamma engine, and Hyundai's BlueLink connectivity system. Though initial projections put the base MSRP at $17,000 that might be a bit higher by the time it makes it to those showrooms.