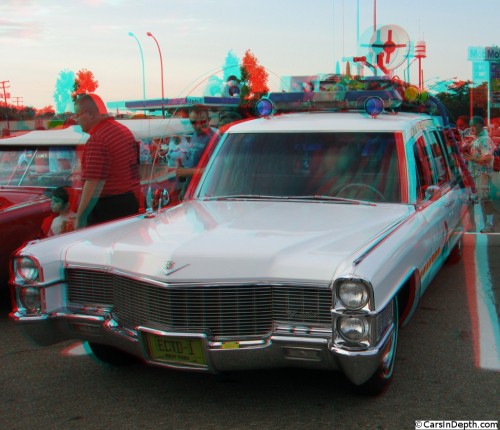 To view the entire photo gallery in your choice of 2D or stereo 3D formats, click here for a Flash player or here for an HTML applet
To expand on Marty's question about a not quite authentic replica of the Ectomobile from the Ghostbusters movie, why build a replica that's not even a replica of something that isn't real in the first place?
At a car show held by the GM Design staff in conjunction with the Woodward Dream Cruise there were a couple of movie/tv cars, a Monkeemobile and this "Ecto 1". While the Monkeemobile is authentic (it's the one that was made by Dean Jeffries and later "restored" by George Barris' shop), the Ectomobile replica doesn't even use the correct generation Cadillac. If the Historic Auto Attractions isn't an authentic replica because of the ambulance's D pillar, at least it's of the same vintage as the original. The late '50s Cadillacs were a bit round and bulbous, while the Bill Mitchell influenced '60s Caddies were crisp and sharp. There's way more than just the D pillar that's wrong with this replica. But like Marty said, if someone did it because they had the talent and wanted to do something fun, I'm not going to criticize. It was a silly movie and if someone wants to make a silly replica, so be it.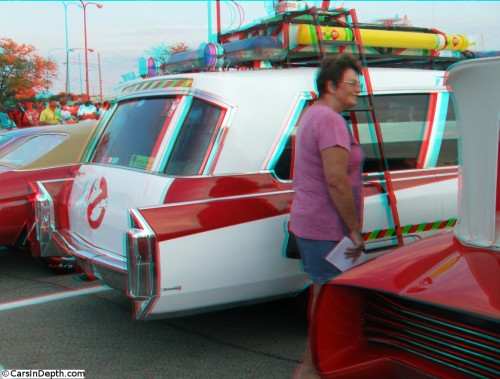 To view the entire photo gallery in your choice of 2D or stereo 3D formats, click here for a Flash player or here for an HTML applet