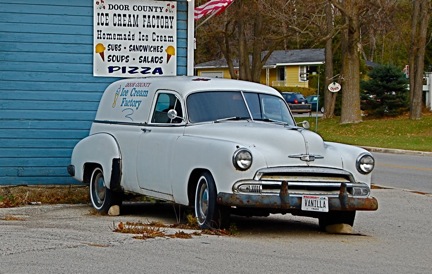 Before there were Transit Connects, Econolines, Tradesman vans or Handi-Vans there was the sedan delivery.  Chevrolet, Ford and Plymouth all offered variations on this theme over the years but the body style began fading in popularity in the late 1950s and was completely supplanted by the roomier work vans which Detroit started offering in the early 1960s.
The sedan delivery was essentially a two-door station wagon with the interior gutted, save for the front seat.  Steel panels replaced the side windows and turned the vehicle into a rolling billboard for whatever business was employing it.  Interior space was somewhat limited by today's standards but proved sufficient for most plumbers, floral or grocery deliveries, etc.
This c. 1951 Chevrolet sedan delivery is a familiar sight to visitors to Wisconsin's Door County.  It's been  parked outside the Door County Ice Cream Factory in Sister Bay for years and, unfortunately, seems to grow a little more tired, faded and rusted as the years go by.