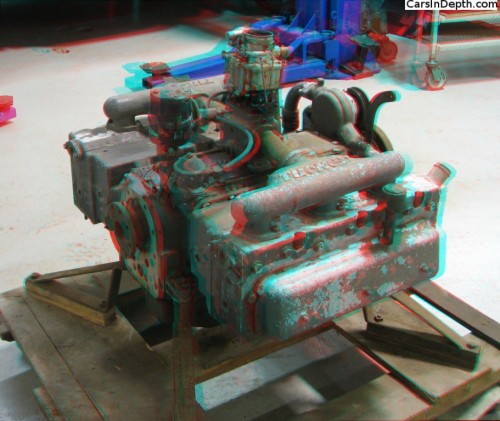 To view the entire photo gallery in your choice of 2D or stereo 3D formats, click here for a Flash player or here for an HTML applet
Here's something you don't see everyday, a new old stock (NOS) Tucker crate motor. Actually, it's more of a "shipping pallet motor" since it's still sitting on the same pallet and brackets it was on when it left the factory. It has a great story and was being sold by Michigan Tucker expert Mark Lieberman on Bring A Trailer. Mark graciously invited me to his shop to photograph the engine, sitting next to a perfect 1956 Olds 98 convertible and a Hemi sitting on a subframe, waiting for installation in a Challenger.
To view the entire photo gallery in your choice of 2D or stereo 3D formats, click here for a Flash player or here for an HTML applet
It's not well known but while the Tucker flat six was pretty powerful for its day, with 167 HP, the 335 cubic inch engines, converted to water cooling from an existing helicopter engine design, were compact, lightweight (only 320 lbs) and were veritable torque monsters, putting out 390 lb/ft. To ensure a steady supply of powerplants, Preston Tucker bought Aircooled Motors, the corporate descendant of Franklin Motors, which was a successful air-cooled automobile manufacturer in the early 20th century. As a matter of fact, you can still see the Franklin logo embossed on the stamped panel between the cyliner banks.
To view the entire photo gallery in your choice of 2D or stereo 3D formats, click here for a Flash player or here for an HTML applet
The engine has has a great story, as related by BaT.
This original 1948 Tucker Flat-6 engine is serial number 33556, and one of the 98 contracted to manufacturer Aircooled Motors (formerly Franklin Motors) for Tucker automobiles. At the time of this order, Aircooled Motors was owned by Tucker and the Tucker family retained ownership of the firm until the 1960′s. This engine was recently acquired from 50+ years of storage in an indoor shop, and is one of the test engines that was part of the general production not yet delivered to Tucker. It has test stand hours and was apparently a runner before storage in 1950 according to the seller. It is still showing what's left of its original paint and sits on an original delivery stand. The patina shows decades of dust and peeling paint but no apparent damage. It is now available in Michigan for $60,000.

This engine, #33556 was the 56th engine produced and was right in the middle of production. This engine was pulled aside and run/ tested in the factory. It was not unusual for them to pull and engine from production and run them. Within a short time the Tucker corporation was closed and a few engines remained at Aircooled Motors. The factory documents show this engine being located at Aurcooled Motors on March 3, 1949. By this time, the Tucker corporation was all but finished.

A key employee of Aircooled motors was heavily involved with the development and building of these engines. This gentleman was known for his keen understanding of engine design. He was directly involved with the development of these engines and designed the water jackets. There is also evidence that he designed the intake manifolds as well. He purchased this engine from Aircooled Motors after the demise of the Tucker Corporation. The engine was relocated to his personal shop and stayed with him until the current owner acquired it. The engine was kept on its original stand and in a dry building all of these years. It sat among tools and equipment that made up his shop. Looking more like a blacksmiths shop, this engine spent the last 5 decades in the care of one of its creators and as a small monument to what might have been.

Tucker built 51 automobiles including the prototype. These converted helicopter engines were fitted with water jackets and other unique parts specifically designed for the Tucker automobile. These compact, aluminum engines were 335 cubic inches, made 167 horse power, an amazing 390 lb/ft of torque and only weighed 320 pounds. They were remarkable engines for the time. The factory photo below shows many of the original engines together, and also verifies the original metal stand and pallet design included with the engine offered here.

These engines, once delivered to the Tucker factory were quickly distributed to waiting cars. Early testing, spare parts need and engine swaps burned through a number of "spare engines". Once the factory closed, the remaining engines were sold with all of the corporate assets in a series of liquidation auctions. Ultimately, many of them were scrapped for the aluminum and stripped for parts. This left only a minor amount of spare engines remaining for car owners and collectors. This last grouping included: incomplete engines scavenged for parts, Complete used engines that were swapped due to damage, Test engines that remained at Aircooled Motors for R&D and Crate engines that had never been installed. It is also rumored that there was one factory High Performance engine built.

These engines have become extremely rare over the years, and this is believed to be the only one currently on offer. The stamping and casting numbers are clearly shown in the photo album, and the engine comes as shown with carburetor, water pump and distributor. We suspect this engine will go to a Tucker in restoration that is in need of an engine, but it would also make for one of the absolute coolest hot rod powerplants ever conceived.