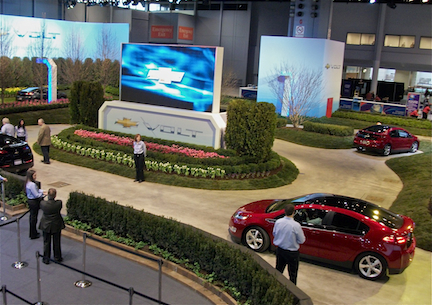 Remember when auto shows were more or less static affairs?  All the latest models set up in attractive displays with a few on turntables with pretty models showing off the features (of the cars).  Here and there you would see "concept cars",  futuristic flights of fancy that might (or might not) give clues as to what upcoming models might look like.
You'll still see much of that at the Chicago Auto Show but you will also get to play with variety of interactive displays showing off various new features and even have a chance to ride in some of the new models.

Ford has always seemed to have more interactive displays than any other car maker, though many of the others are catching up.  At this year's Ford exhibit you can try your hand at driving simulators, race slot cars against other show goers, lay your grubby fingers all over engine cutaways and go for a ride in a new Explorer.  While not an interactive display, Ford also has a Boss 302 on a dynamometer.  Very cool.
Honda offers its Eco Assist Challenge, a driving simulator that tests just how economically you can drive.  Would be vocalists will want to stop by the Kia Karaoke stage.  State Farm insurance even gets into the act with its State Farm Garage where you can shoot free throws and play video driving games.
Chrysler has been offering rides on an indoor track for several years now and 2011 is no exception.  The company has built a very convincing off-road course in McCormick Place and will be giving rides to anybody who has the stomach for it — and hang on tight, some of the drivers like to get a little frisky with the Jeeps.
Not to be outdone, Toyota is also building a massive indoor driving range, though it wasn't quite ready for the press previews this week.  And if you are curious to see what it's like to ride in a Chevrolet Volt, get in line because Chevy will gladly take you around its indoor course.