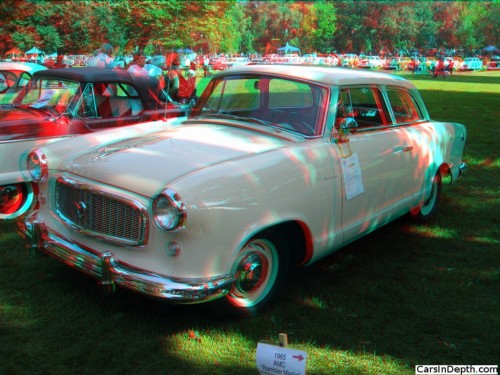 To view the entire photo gallery in your choice of 2D or stereo 3D formats, click here for a Flash player or here for an HTML applet
Soon after George Romney became head of American Motors in the wake of the sudden death of his mentor, George W. Mason, he had to make an important decision. AMC only had enough money to develop one car. Romney had to decide whether to put that money into new "senior" cars, the big cars still being sold as Nashes and Hudsons or into a new Rambler, the compact car that Nash introduced in 1950. Romney not only decided to go with the Rambler, he decided to move introduction of the new Rambler up a year to the 1956 model year. It was a smart move. The big senior cars that Romney called "gas guzzlng dinosaurs" were getting killed by the Big 3. On the other hand AMC had the compact market pretty much all to themselves with the Rambler.
The new Rambler shared the 108″ wheelbase of the '55 model, but it was a clean sheet design. On the outside it was an attractive sedan, if a bit simple, and the looks have aged well. There was an airy greenhouse with new wraparound rear glass. Underneath, the Rambler was based on AMC's "All Welded Single Unit Construction", their term for a unibody, which was actually stiffer than any of the body on frame cars then offered by the Big 3. Both Nash and Hudson had a history of innovative body making. Coil springs were at all four corners, with control arms up front and a rear axle controlled by both a Panhard rod linking the live axle to the body and a torque tube connecting the transmission to the rear end. A "new" engine was developed by giving the L-head Nash six a modern overhead valve head.
While reviewers at the time praised the Rambler's performance, handling and braking, sales actually went down, in part due to production and quality issues with the new car, but also due to the late introduction in December of 1955. Things started picking up in the 1957 model year, and by the early 1960s the some basic Rambler introduced in late 1955 would lead AMC to record sales and genuine profitability. The car pictured here is a 1958. The '58 was slightly facelifted from the year before