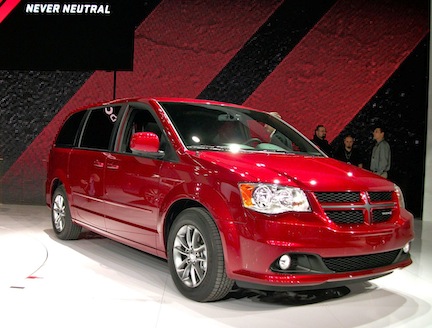 Yesterday at the Chicago Auto Show previews, Dodge CEO Ralph Gilles announced a full line of R/T models including the Charger, Challenger, Journey, Durango and Grand Caravan.  The Charger and Challenger, of course, are understandable and one might be able to make a case for the Durango.  The Journey and Grand Caravan, though?  Mmmm, not so sure.
Gilles made his case for the Grand Caravan by referring to it as the "Man Van", the kind of vehicle that the rugged individualist who just happens to have soccer kids wouldn't be embarrassed to be seen in.  The Caravan R/T does come with a number of upgrades over the Mommy versions including body-colored grille, a "performance-tuned suspension",  its own unique, "all-black interior with perforated black leather seat, red stitching, leather-wrapped steering wheel and shift knob and a premium sound system with nine-speakers, a subwoofer and 506-watt amplifier".
Oh, and a chrome "R/T'  badge on the tailgate.
Overall, the effect is subtle in the extreme, though Gilles suggested that it was meant to be that way.  (And I do think that a special stripe package, ground effects and Brembos would only serve to make the neighbors chuckle.)
There probably is a market for a vehicle like this, however small, and it didn't cost Chrysler a ton of money to develop.  Still, I have to wonder, was someone actually asking for this?