Henry Ford was a farm boy who hated the city. He also understood that the success of the Model T meant the end of farm life as he knew it. As a personal project Ford started the Ford Village Industries, small factories, on mill sites so they could run on hydro power, that were meant to employ farmers seasonally when they weren't needed on their farms. Ford had so much political power that he got Wayne County to build dams for him and the Michigan Public Service Commission gave him the power, through eminent domain, to seize up to 25% of the land adjacent to any dam site in the state. Eventually there were about 30 of the little factories, employing between two dozen and 500 people. Some employed just women.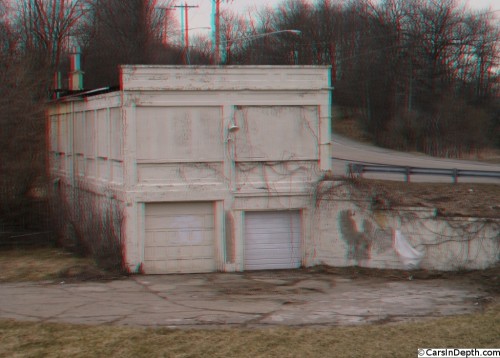 To view the entire photo gallery in your choice of 2D or stereo 3D formats, click here for a Flash player or here for an HTML applet
It was a personal project of Ford's and nobody kept books on the program but it probably lost money. No matter, Henry wanted it, so it happened. In some cases Ford converted existing mill buildings, in other locations he had Albert Kahn build him new factories and powerhouses. All the buildings still stand. This silent film, made by Ford Motion Picture laboratories, titled, Story of a Little River, promoted the Ford Village Industries. The Nankin Mills site is now a museum. The second video is shown to museum visitors, with information on the Ford Village Industries starting around 3:18. Compare how the buildings looked in the films to how they look today in the pictures we took last spring.