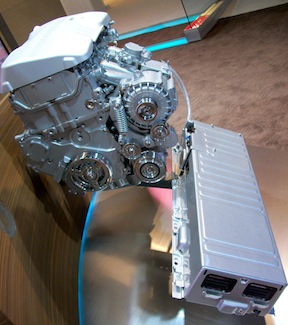 Buick is showing off its upcoming eAssist technology at the car shows this season.  It's similar to the system that Chevrolet briefly offered on the Malibu but has been upgraded with more power and improved electronics.  But whatever you do, don't call it a hybrid because Buick doesn't.
eAssist, which will be standard on the LaCrosse and optional on the Regal, adds a small electric motor under the hood and a lithium ion battery pack in the trunk turning the cars into mild or partial hybrids, although Buick prefers to call it "light electrification".
The 15 horsepower electric motor provides additional power for the standard 2.4-liter 4-cylinder engine during acceleration and is recharged, in part, through regenerative braking.  The system also shuts the gasoline engine off during idling and when the car is decelerating, restarting it instantly and seamlessly when needed.
The eAssist system enables the LaCrosse to achieve an estimated 25 mpg city and 37 mpg highway rating while the Regal is rated at 26 mpg city and 37 mpg highway.  The 2012 LaCrosse with eAssist should be available this summer with the Regal eAssist option coming in the fall.
Just remember, it's light electrification, not a hybrid.