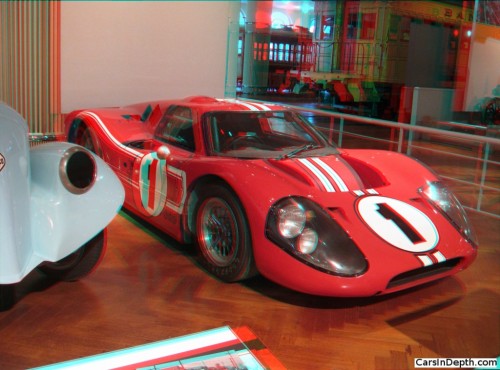 To view the entire photo gallery in your choice of 2D or stereo 3D formats, click here for a Flash player or here for an HTML applet
The 1960s were good to Carroll Shelby as he hitched his star to the Ford Motor Co. – to both his and FoMoCo's great success. Perhaps the pinnacle of that success was the 1967 Ford GT Mark IV racecar, designed and built for one task, winning the 24 Hours of LeMans. Ford had won in spectacular fashion the year before, with three GT40s taking the checkered flag together. After early failures with the GT40, to win at LeMans and take revenge on Enzo Ferrari for not selling Ferrari to Ford, Henry Ford II hired Shelby to manage the GT40 team. Shelby was also the team owner of record. Though his team's development of the car, particularly Ken Miles' contribution, was essential to the GT40's ultimate success, Shelby had little to do with the car's origins. The original GT40, while it was raced with a blue oval logo and paid for with checks signed in Dearborn, was designed by Lola's Eric Broadley and built in England. While an Anglo-American effort seems appropriate for Shelby in light of the American-V8-in-a-Brit-sportscar concept behind the Cobra, few people have been more quintessentially American than Ol' Shel. The Mk IV was an all-American effort: designed by Ford, built in the Shelby race shop, and driven to victory at LeMans by Dan Gurney and A. J. Foyt. However, having no more mountains to climb and having spent an estimated $200 million on the LeMans effort back when that was serious money (less than 10 years earlier, Ford lost about the same amount on the Edsel debacle) Ford decided to pull out of international sports car racing after winning the '67 race. The GT MkIV win at LeMans was the last time Shelby competed at LeMans. I'm not mistaken, it was also Shelby's last race, a fitting exclamation point on a superlative racing career. Such a career would make anyone notable in the annals of automotive history, but it's even more notable in that it was only one facet of Carroll Shelby's remarkable life.
The LeMans winning Ford GT40 Mk IV is on display at Racing In America, part of the Henry Ford Museum's Driving America exhibit.