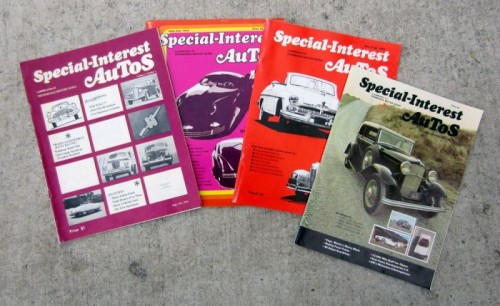 I'd like to veer off course again, this time to talk about Special-Interest Autos magazine and how it started.
After three years at Motor Trend, I left in late 1965 and took a job as publications director for the University of the Pacific here in Stockton, California. I thought I'd love working for a college, but I didn't. So in August 1966, I went out on my own and put up a shingle as a freelance writer and automotive editor. That's not an easy way to make a living, and there were now five Lamms to feed, but somehow it worked out. We bought a house in Stockton, I built a little office inside our garage, and the kids knew that while I was in there, clacking away at my Royal Standard, they had better stay out.
When our neighbors asked what I did for a living, I told them I was self-employed, but the fact was and still is that there's a very thin line between being self-employed and unemployed. My primary freelance markets during those years were Motor Trend, Car Life and Popular Mechanics. I knew the people at Motor Trend quite well, and I'd left on good terms, so they gave me a fair amount of work. Another good market was Car Life, the magazine John and Elaine Bond at Road & Track conceived as Motor Trend's rival, the idea being to expand the Bond empire so it could compete more directly with Petersen Publishing Co. Petersen published Motor Trend, Hot Rod, Car Craft, Rod & Custom, Sports Car Graphic and a number of other titles.
Read the rest of this week's installment at Hemmings' Blog.