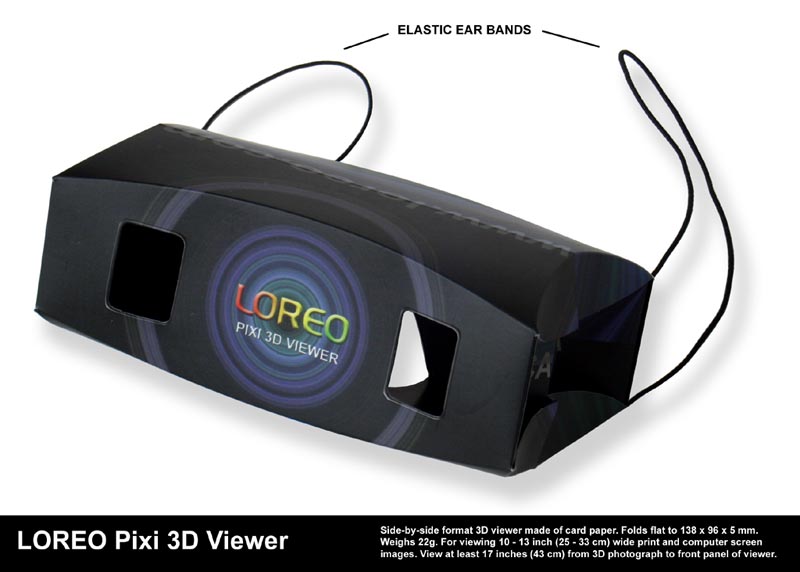 While the stereo images and videos on Cars In Depth are compatible with most forms of viewing 3D on a computer, we realize that most of our readers will initially use inexpensive red/cyan glasses suitable for anaglyphs. They're cheap, they're widely available and they work. Still, they aren't an ideal solution.Though the 3D effect is fine with anaglyphs, there is a problem with color fidelity and flashing, particularly with red, and it's not like they don't make a lot of red cars. Of course shutter lenses and other active systems have true color fidelity, but they're not cheap. Searching for a less expensive alternative to anaglyph glasses, I discovered that Loreo, a 3D firm based in Taiwan, has developed the Pixi 3D Viewer, an inexpensive fold-able cardboard viewer for side-by-side stereo images and video.
Actually, Loreo makes two different inexpensive parallel viewers (as well as 3D cameras, lenses and other stereo viewers), but the Pixi 3D is designed specifically for computer screens and is optimized for parallel images that are 10 – 13 inch (25 – 33 cm) wide, viewed from about 18″ inches from the screen, a normal viewing distance for PC users.
The Pixi 3D Viewer comes stored folded flat in a cardboard slipcase ~ 4″ X 6″. It's a very simple and clever design. To use the Pixi 3D Viewer, you slide it out of the case, squeeze the top and bottom surfaces together, which opens up the viewer into a boxed shape, press in the sides and then fold the side tabs in to lock everything in place. There's a notch so the Pixi will rest comfortably on your nose and two elastic ear bands to hold the viewer in place on your head. The Pixi weighs less than an ounce (22gm) so it rests lightly on your nose. I wear prescription eyeglasses and the Pixi worked just fine, even with my glasses on.The Pixi is constructed of durable moisture resistant plastic coated cardstock and should last for many viewings. There are clear plastic lenses for each eye, designed to focus at the appropriate viewing angle and aimed at ports on the front of the viewer. The inside surface of the Pixi is black, to create an ideal viewing chamber.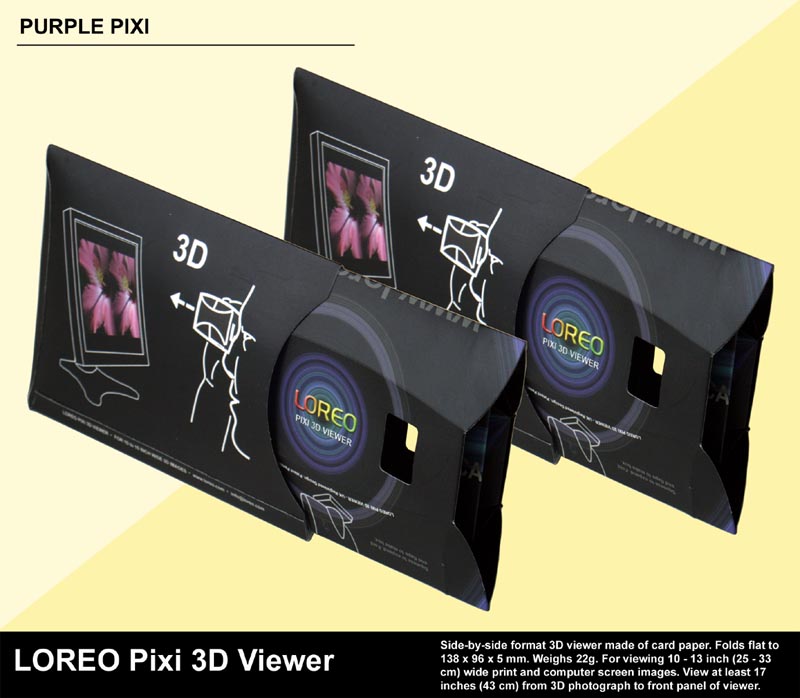 You simply put the viewer on, start looking at the side-by-side images from about 24 inches away until they merge into a single image. Then you move in to ~18″ for optimal focus.
To grasp how the Pixi 3D works, imagine a pair of binoculars with the front lenses masked and aimed to only allow each eye to see different half of the visual field. When you use it to look at side-by-side stereo images, each idea sees a different image, and as with normal binoculars, your brain merges the images into a single stereo image.
The resulting images are in sharp focus, with good 3D effect, and, most importantly, perfect color fidelity. To test the Pixi 3D Viewer, I checked out our recent post on the Camaro ZL1, just introduced at the 2011 Chicago Auto Show. The ZL1 concept was painted a bright red, so bright and red that I had to view them in gray anaglyph format when preparing the stereo images. With the Pixi 3D Viewer, the new ZL1 Camaro looked great, the color was exactly how it is in the left and right images. I also checked out some 3D photos that I took of the Camaro 2011 Indy 500 pace car that Chevy also introduced at the Chicago show. That pace car will reprise the well known white with orange stripes livery of the original 1969 Camaro that paced the 500. I wanted to see how the Pixi 3D Viewer handled that bright orange. Both the new pace car and the original looked fine. Since the Pixi viewer uses clear lenses, colors remain as they are in the original left and right image pairs.
I also tested the Pixi 3D Viewer with side-by-side stereo video, using the video in our Mini Pacemen post, and it worked just as well with live action as it does with still photos.
The only drawback is that unlike anaglyph and shutter lenses you can't simultaneously view 3D images at the same time you try to read text, so for full enjoyment of Cars In Depth, you'll have to take the Pixi 3D Viewer off while reading the work of our talented team of writers. With that caveat in mind, Loreo's Pixi 3D Viewer has our hearty approval here at Cars In Depth.
You can order the Pixi 3D Viewer here. Single viewers are $2.50US plus shipping. If you buy 10, the price drops almost in half, $1.30 (plus shipping).