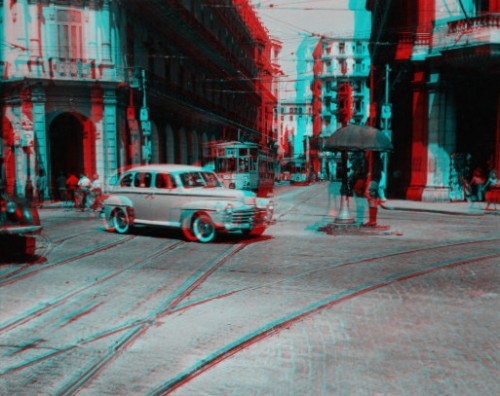 To view the entire photo gallery in your choice of 2D or stereo 3D formats, click here for a Flash player or here for an HTML applet
Old American iron kept running by plucky Cubans is an evergreen story in the buff books and car blogs. The Keystone View Co. sent stereo photographers all around the world, to make stereographs of exotic locales. The photos, taken in 1948 in Havana, show that at least a decade before the Castro regime took over and prohibited private ownership of any car imported after the revolution, Cubans drove primarily American cars, and new ones at that. There are new American cars on Havana's boulevards and new trucks – I think they're Fords, being unloaded at the docks in Havana's harbor.
Photo credit after the jump.
Keystone-Mast Collection, UCR/California Museum of Photography, University of California at Riverside. Please contact UCR/California Museum of Photography for information about the copyright status of this item. Some materials in these collections may be protected by the U.S. Copyright Law (Title 17, U.S.C.). In addition, the reproduction, and/or commercial use, of some materials may be restricted by gift or purchase agreements, donor restrictions, privacy and publicity rights, licensing agreement(s), and/or trademark rights. Distribution or reproduction of materials protected by copyright beyond that allowed by fair use requires the written permission of the copyright owners. To the extent other restrictions apply, permission for distribution or reproduction from the applicable rights holder is also required. Responsibility for obtaining permissions, and for any use rests exclusively with the user.