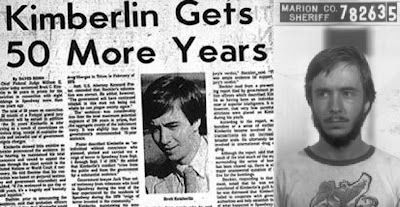 When I started Cars In Depth, I wanted to keep the focus on cars and car culture. It's true that some of our most popular posts have touched on political or social issues, but they've always had something to do with cars or the automobile industry. Today we're departing briefly from that practice because the topic is too serious to ignore, people are being jailed and having their lives placed in danger because they've exercised their right to free speech. What have they done to deserve this? Point out the historical record regarding a convicted felon and domestic terrorist named Brett Kimberlin. Now it's is a complicated story, which may explain why it hasn't gotten the attention it deserves, but if you do take the time to follow the twists and turns, you'll be as outraged as I am.  Details after the jump – a more comprehensive look and multiple links can be found here.
Kimberlin briefly achieved notoriety for claiming that he sold Vice President Dan Quayle pot in college. At the time he was serving a 17 year term in federal prison in connection with a bombing that we would today call "domestic terrorism". Since getting out of prison, he's set up a couple of non-profit organizations, well funded by left wing groups like George Soros' Tides Foundation. While in prison, Kimberlin learned how to be an effective jailhouse lawyer and he currently specializes in using what has been characterized as "lawfare" to attack those who have dared to tell his true story, filing lawsuits and requests for restraining orders against those he sees as his enemies. Just recently attorney and blogger Aaron Walker was arrested for violating a peace order based simply on publishing critical but factually accurate material about Kimberlin, after Kimberlin managed to convince a technologically illiterate and jurisprudentially oblivious judge that Walker's blog posts incited threats against him. Walker and his wife already lost their jobs after their employers were contacted, prompting concerns about workplace safety. Stacy McCain had to move his family after his wife's employer was similarly contacted when he started writing about Walker's encounter with Kimberlin. National Bloggers Club founder Ali Akbar likewise has been threatened with the publication of his youthful indiscretions and a photo and the address of his mother's house has been published online. Though they have not yet been tied directly to Kimberlin, at least two of his targets have been the victims of so-called SWATting, where phones have been spoofed and 911 calls made falsely reporting shootings. Los Angeles county assistant prosecutor Patrick Frey, who publishes the popular Paterico's Pontifications blog, was hauled out of his house in handcuffs after someone called the police reporting that 'd Frey had shot his wife. CNN commenter Erik Erickson has also been SWATted. That's the kind of stuff that gets people killed.
Though the targets of Kimberlin and his associates have been mostly politically conservative, that's not entirely the case and it's nice to see that bloggers from the left as well as the right have started speaking out about this disturbing matter. It hasn't gotten much attention from the mainstream media though some legislators in Washington are starting to take notice. To encourage more of official Washington and the mainstream media to recognize that this is a threat to American democracy, not a partisan issue, a number of bloggers have staged a day of silence for today. Though we aren't participating in the day of silence, we did want to go on record supporting free speech and try to educate our own readers about this matter.