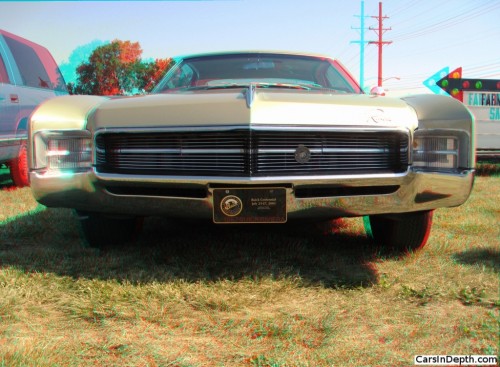 To view the entire photo gallery in your choice of 2D or stereo 3D formats, click here for a Flash player or here for an HTML applet
One of the things that I like to do when I go to car shows and other similar car events is to look for interesting cars that attendees, rather than exhibitors, have brought to the event. What better destination for a Sunday ride in a special interest automobile (hat tip to Michael Lamm) than a car show. So before I enter a car show, I always take a moment or two with my camera rig looking for some parking lot prizes. The remains of the Packard Proving Grounds north of Detroit, on the National Register of Historic Places, is owned by a non-profit foundation affiliated with the Packard owner's club.
Start the YouTube 3D video player. Click on the red 3D icon in the menu bar to select 2D or your choice of stereo 3D formats.
Affluent Packard owners may not have kept the company in business but they've been affluent enough to keep and collect Packard. They're also careful to protect the company's heritage, owning rights to logos and preserving and restoring the buildings at the proving grounds and what remains of the test track. Every summer they hold a judged car show called Cars R Stars. One of the judges drove his original condition 1967 Buick Riviera to this year's event and it was parked near the entrance to the Grounds.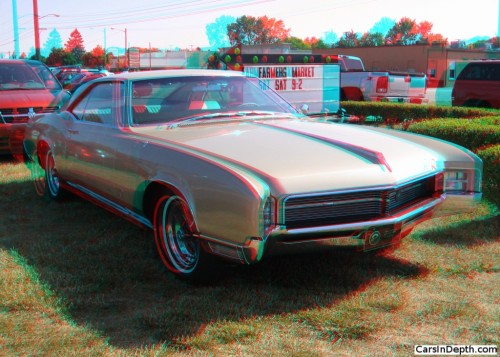 To view the entire photo gallery in your choice of 2D or stereo 3D formats, click here for a Flash player or here for an HTML applet
Fortunately he hadn't yet started his judging duties so I was able to talk to him a bit about the car. There's something about survivor cars, you know almost immediately that they aren't restorations. I can't really put my finger on it. It's not a case of patina, a '67 could have been resprayed and still have patina, I think it's that recent restorations look too good, better than any car in the 1960s or 1970s looked as delivered new at the dealer.
Lest you think that Detroit never built a quality product, submitted for your consideration, a 1967 Buick Riviera. Sure they started to make some crappy cars starting about a decade later, but in the mid 1960s, the Big Three were at the top of their game. Looking at the interior fit and finish, the way the panels around the back seat went together, the quality of the upholstery, I had to ask the owner if it had ever been touched and he said, no, it was just as it left the factory. Other than the tires and fluids, everything else was as new, and Buick had built a pretty nice car when it was new. The paint was flawless, the panels as smooth as a show car's and while the panel gaps are a bit wider than a Buick would have today, they were uniform with well fitting body panels.
Every car owner at a car show has a story. This is the current owner's second 1967 Buick Riviera. He bought an identical one new as a 21 year old, flush with cash from a good job and still living at home with no living expenses. He said that he saw the newly restyled '66 and fell in love with that body style. He started to save his money and went down to the dealer and plunked down a $2,000 down payment on a '67 with the same "light fawn" interior and "gold mist" exterior as this one. He didn't explain the circumstances of how his first Riviera left his possession, but about 20 years ago he spotted this car. Yeah, it's one of those, "I tried to buy it for 20 years and…" stories. In this case, the car was purchased from the widow of the original owner, who died at 93 after putting only 28,000 miles on the Riv. The '67 Riviera has hidden headlights that pivot down into position from their stored location under the hood. The owner graciously operated the headlights for so you can watch how they work in 3D video. Sorry about the chatter on the video, someone was trying to give me a flyer for their all-Mustang show next month.