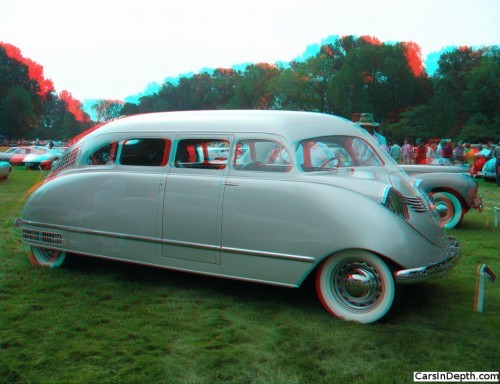 To view the entire photo gallery in your choice of 2D or stereo 3D formats, click here for a Flash player or here for an HTML applet
William Stout was one of the designers of the Ford Tri-Motor airplane. An out of the box thinker, Stout decided to apply airplane construction techniques to automobiles and the resulting car was the Stout Scarab. Starting in 1936, Stout built 9 Scarabs. The Scarab was revolutionary in many ways and is often described as the progenitor of the minivan. Some of the unique features were an aerodynamic body designed by John Tajaarda that included flush glass and electric door latches to eliminate exterior door handles, a rear mounted flathead Ford V8, independent suspension at all four corners using coil springs, and an interior that could be rearranged. It had an exceptionally long wheelbase, 135 inches, but because the wheels were pushed to the corners of the Scarab, it was no longer than conventional 1930s cars. Like Josef Ganz, Stout felt that rear-engined designs were superior, allowing better aerodynamics and visibility (well, out the front of the car at least). He also described the traditional front engine rear wheel drive arrangement as a throwback to the horsedrawn days.  The layout that he arrived at, turning a conventional drivetrain around 180 degrees and then running a driveshaft under the transmission and engine back to the rear axle, is pretty much how the Lamborghini Murcielago is laid out. For engine access, there are two panels that open up like a ladybug's wings.
Start the YouTube 3D video player. Click on the red 3D icon in the menu bar to select 2D or your choice of stereo 3D formats.
This Scarab was at the 2012 Eyes On Design show, the show's 25th anniversary. Eyes On Design, as the name implies, is a design based car show. The Scarab was one of 25 silver cars arranged in a circle to demonstrate the color of choice that auto designers believe shows off their work best. Fortunately I was able to shoot video of the Scarab as it left the show field. This is most likely the first 3D video shot of a Scarab in action.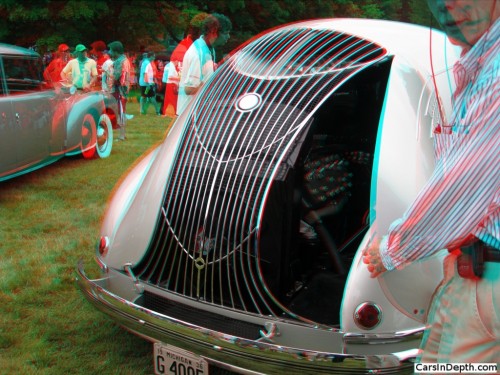 To view the entire photo gallery in your choice of 2D or stereo 3D formats, click here for a Flash player or here for an HTML applet