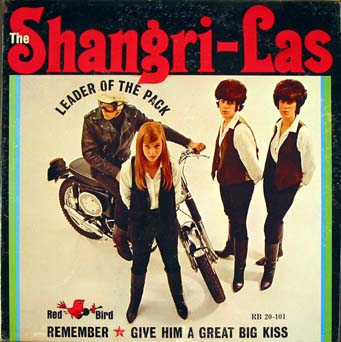 Perhaps this should be saved for a Car Tunes post but that's really about music. This is more about vroom vroom noises. Ann Althouse was considering the Shangri-Las' hit song Leader of the Pack. The song opens with the sound of a motorcycle engine being revved and Prof. Althouse asked her readers if there were any other songs that included engine sound effects. The very first person to respond suggested my own choice, Steve Miller's Living In The USA. Click past the jump to see a more complete list of songs that Althouse's readers suggested. Feel free to add your own in the comments here.
Per. Prof. Althouse, there's some lore about the way that motorcycle ended up on vinyl.
According to legend, to add the authentic sound of a motorcycle engine, one was driven through the lobby of the hotel and up to the floor of the recording studio. No one was arrested, but a ticket was issued. However, in an interview four decades later, Shangri-Las lead singer Mary Weiss said the motorcycle sound was taken from an effects record. The Zombies' drummer Hugh Grundy recalls revving up a motorcycle backstage when the Shangri-Las performed on a U.S. tour.
"Living in the USA" by Steve Miller
"Motorcycle Irene" by Moby Grape
"Back In The USSR" by the Beatles (jet engine)
"Rebels Rule" by the Stray Cats
"Panama" by Van Halen
"Detroit Rock City" by KISS
"Last Kiss"
"Dead Man's Curve" by Jan & Dean
"Bad Motor Scooter" by Montrose
"Double Nickles on the Dime" album by the Minutemen
"Money" by Pink Floyd
"Faster" by George Harrison (those are probably F1 cars)
"Girls Girls Girls" by Motley Crue
"Love is the Drug" by Roxy Music
"Drivin' Sister" by Mott the Hoople
"Autobahn" by Kraftwerk"
"Would I Lie To You?" by the Eurhythmics
"Movin' Out" by Billie Joel
"Nothin' But Time" by Jackson Brown (recorded on his tour bus, and you can hear the engine as the driver shifts and accelerates.)
"The Lumberjack" by Jacky; (chainsaw)
"Like a Bat Out of Hell" by Meatloaf (the "motorcycle" is actually producer Todd Rundgren's guitar)
"I Can't Drive 55" by Sammy Hagar
"Stripped" by Depeche Mode
"Drag City" by Jan and Dean
"Thick-N-Thin" by the Black Crowes (an actual recording of a band member crashing his beater into the dumpster behind the recording studio)
"409" by the Beach Boys
"You're Gonna Get Yours" by Public Enemy
"I'm In Love With My Car" by Queen
"Jerry Was a Race Car Driver" by Primus
"Road Hog" by Joe Ely
"Born To Be Wild" by Steppenwolf
"Old White Lincoln" by the Gaslight Anthem
"California" by French pop singer Mylene Farmer
"Roy's Toy" by Jeff Beck
"Dirt Track Date" by Southern Culture on the Skids
"LA Woman" by the Doors
"Jesus Built My Hotrod" – Ministry
"Tons of Steel" by The Grateful Dead
"Hell in a Bucket" by The Grateful Dead
"Draggin" by Roger McGuinn
"Wabash Cannonball" by Roy Acuff
"Everybody Wants You" by Billy Squier
"Auberge" by Chris Rea
"Buick 59" by the Medallions
"Garbageman" – The Cramps
"Manic Mechanic" – ZZ Top
"Countdown" by Rush (Space Shuttle)
"Demand" by Phish
"Baby Driver" by Simon & Garfunkel
"Harley David" by the Bollock Brothers
"Blues Theme" by Davie Allan & The Arrows (from the Roger Corman biker film "The Wild Angels.")
"Bastards" by Lars Frederiksen & the Bastards
"Motorcycle" by Love & Rockets
"Motorbikin' " by Chris Spedding
"Motorhead" by Motorhead
"Atom Heart Mother" by Pink Floyd
"Motorcycle" by Tico and the Triumphs
"Ape Man" by the Kinks
"Freeway Jam" by Jeff Beck
"Kick Start My Heart" by Motley Crue
"Hot For Teacher" by Van Halen
"Country Honk" (Honky Tonk Woman) by the Rolling Stones