I do custom embroidery. Everything from rock n' roll t-shirts to corporate logos to one of a kind family heirlooms. You can check out my main embroidery site here.

I also like cars.

I've been embroidering cars on peoples clothes for a few years now and have developed a technique where each major body contour is created separately and the stitch angle adjusted for maximum 3D effect. This also highlights signature elements like side scoops, fender flares and hood scoops.

I've put together a small portfolio of some popular cars and people seem to like them. People like being able to order the car stitched in the same factory or custom color as their own car. They also like being able to order the apparel in the color and size they want. Here are some of our stock designs.

I'm now able to offer an even higher level of customization. If you have a rare or custom ride, you're not likely to find it on a shirt or a jacket. Now you can have...

Your Car on Your Clothes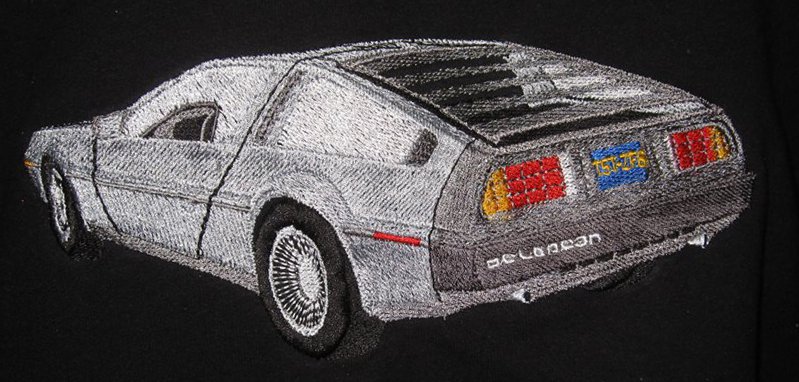 Here's what The Smoking Tire's Matt Farah said about the embroideries we stitched of his new DeLorean: "Dude, those are so bad ass! Thanks so much."
Send me your favorite photo or drawing of your favorite car (or motorcycle, boat or plane) and for a one-time design fee of only $75 plus the cost of the apparel, I'll create a stunning embroidery design that will truly capture your dream machine and stitch it, along with your choice of custom lettering, on the left breast of your choice of apparel (approx. 3.5" wide) including baseball caps. For a one-time design fee of only $100 plus the cost of the apparel, I'll put a large (~8") embroidery of your car or motorcycle on a jacket back along with the left breast logo and custom lettering. These are not stock designs taken out of a catalog – I create a one-of-a-kind custom embroidery design from your image.
For legal reasons I cannot reproduce logos or trademarks.
We have a wide variety of apparel available, from t-shirts and golf shirts to varsity jackets and leather bomber jackets, all top quality. Our varsity and leather jackets are made by Reed Sportwear, the same company that made Marlon Brando's classic motorcycle jacket in The Wild One. If we don't normally carry something you want, we'll be happy to special order it for you.
If you have a car club, we offer discounts on quantities of a dozen or more items. If your club orders at least 24 of our standard t-shirts or golf shirts or hats for an event, we'll throw in an extra one free to use as an event prize.
Small Print Legal Stuff:
$75 fee for designs of 15,000 stitches or less
$100 fee for designs of 15,000-50,000 stitches
Everything is custom work, done to order, so the best way to start the process is to click Here to email us for more information.
If you already have an image that you want to be reproduced, please email it along with your request for more information.